ICYMI: Commissioner Craddick Discusses State of Texas Energy Industry at the 2015 Texas Tribune Festival
October 27, 2015
AUSTIN – Railroad Commissioner Christi Craddick discusses the state of the Texas energy industry and the Railroad Commission's priorities in an interview with Wall Street Journal reporter Russell Gold at the 2015 Texas Tribune Festival. 
The interview can be found here.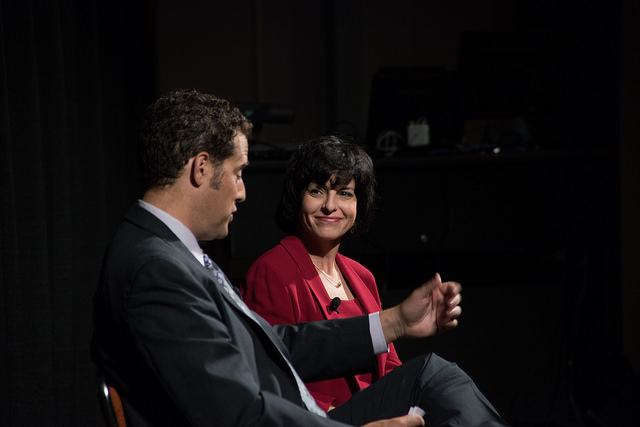 Wall Street Journal reporter Russell Gold interviews Railroad Commissioner Christi Craddick at the 2015 Texas Tribune Festival. Photo provided courtesy of Texas Tribune.
---
Christi Craddick was elected statewide by the people of Texas in November 2012 to serve a six-year term as Texas Railroad Commissioner. A native of Midland, Christi is an attorney specializing in oil and gas, water, tax issues, electric deregulation and environmental policy.
---
About the Railroad Commission:
Our mission is to serve Texas by our stewardship of natural resources and the environment, our concern for personal and community safety, and our support of enhanced development and economic vitality for the benefit of Texans. The Commission has a long and proud history of service to both Texas and to the nation, including almost 100 years regulating the oil and gas industry. The Commission also has jurisdiction over alternative fuels safety, natural gas utilities, surface mining and intrastate pipelines. Established in 1891, the Railroad Commission of Texas is the oldest regulatory agency in the state. To learn more, please visit http://www.rrc.texas.gov/about-us/.