RRC Wraps Up Abandoned Mine Restoration Project
54-year-old abandoned uranium mine restored to natural landscape
July 17, 2018
AUSTIN – The Railroad Commission's Abandoned Mine Land program has completed restoration of an eight-acre abandoned uranium mine in Karnes County. Known as the Hackney Site, it was last mined in 1963 and sat abandoned for 54 years. It was selected for remediation because of the safety hazard abandoned pits pose to the public, as well as elevated naturally-occurring radiation levels. The four-month long project reduced radiation to safe levels and restored the area to its natural state. 
"Abandoned mine sites like this can present many hazards to landowners, the public, livestock, wildlife and the natural environment, so it's critical we restore them to a safe, usable condition," said Cory Gretlein, P.E., AML engineer. "Sites like this have near vertical pit walls, often adjacent to deep water bodies that pose a drowning hazard. While the radiation in these sites is naturally occurring, we want to make certain it is at a safe level for people, animals and the environment."
During the Hackney Site project, which was managed by the RRC, 60,000 cubic yards of naturally occurring radioactive soil was properly disposed of through on-site burial in the abandoned pit. Once filled, the material was capped with topsoil and storm water control features were installed. New, native vegetation was also planted on the site to restore it to its natural state.
The project was funded by a $664,349 federal grant from the federal Office of Surface Mining Reclamation and Enforcement. AML staff will monitor the site to ensure healthy growth of vegetation and to maintain erosion control.
For a time-lapse video of the project showing progress of the project, please click here.
You can find more information on the RRC's Abandoned Mine Land program on our website


Before and after photos are included in this press release.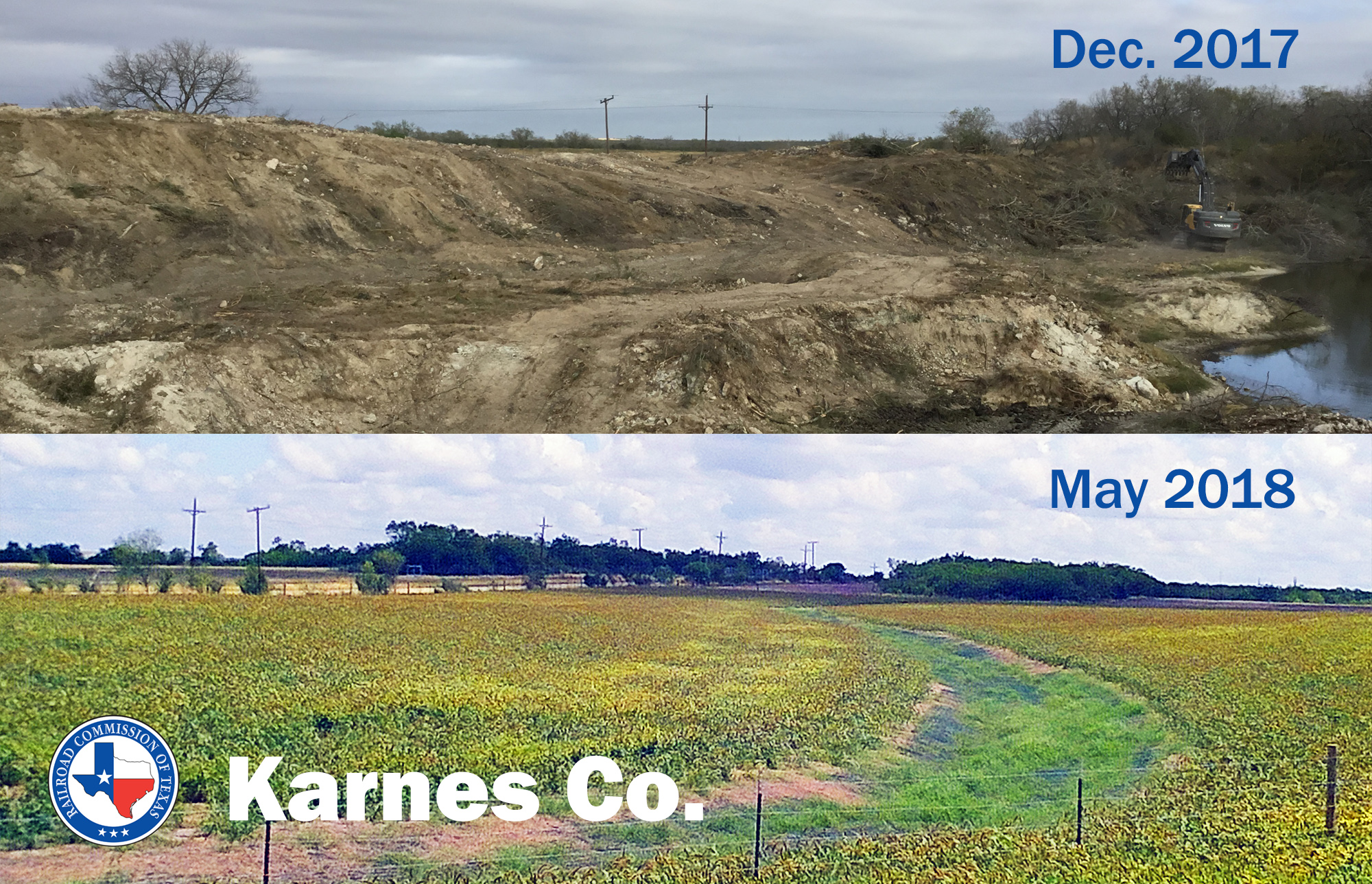 ---
About the Railroad Commission:
Our mission is to serve Texas by our stewardship of natural resources and the environment, our concern for personal and community safety, and our support of enhanced development and economic vitality for the benefit of Texans. The Commission has a long and proud history of service to both Texas and to the nation, including almost 100 years regulating the oil and gas industry. The Commission also has jurisdiction over alternative fuels safety, natural gas utilities, surface mining and intrastate pipelines. Established in 1891, the Railroad Commission of Texas is the oldest regulatory agency in the state. To learn more, please visit http://www.rrc.texas.gov/about-us/.