Chairman David Porter Preserves Texas History in Celebration of RRC's 125th Anniversary
June 14, 2016
AUSTIN – In celebration of the Railroad Commission's 125th Anniversary year, Chairman David Porter is working with the Texas Archive of the Moving Image (TAMI) to preserve the Commission's history and legacy of service to the people of Texas. TAMI will digitize the Commission's short documentary video produced in 1991, which marked the RRC's 100th Anniversary. This project will not only preserve this piece of Commission history, but will make it widely available to the public and for use in Texas classrooms across the state.
"The Railroad Commission has played a central role in shaping Texas history from the early days of rail travel across the state, to Texas' rise as a global energy power," said Railroad Commission Chairman David Porter. "It's especially important Texans understand and appreciate how the Commission has successfully managed the safe, responsible exploration and production of our state's abundant energy resources, and I'm grateful the Texas Archive of the Moving Image is helping us preserve that great history."
"The Texas Archive of the Moving Image is very pleased that the Railroad Commission of Texas has chosen to digitize their video collection through our free digitization program - a groundbreaking public history project," said TAMI Managing Director Madeline Moya. "We know that their video, which documents Texas history and the agency's work, will be particularly useful in the classroom, so we plan to not only feature it on our website, but also in our free K-12 lesson plans relating to Texas industry and government."
The Texas Archive of the Moving Image is a 501(c)(3) non-profit that works to discover, preserve, provide access to, and educate the community about Texas' film heritage. Film and videotape were not made to last -- an estimated 90% of Texas-produced materials made before 1950 are considered lost to film decay due to heat, humidity, natural disasters, or simple neglect. TAMI works to rescue Texas-related films and videos before they are lost. By partnering with institutions and individuals across the state, TAMI digitizes and provides web access to thousands of moving images that offer insight to Texas history and culture.  Over three thousand films are available to view on the TAMI website, www.texasarchive.org.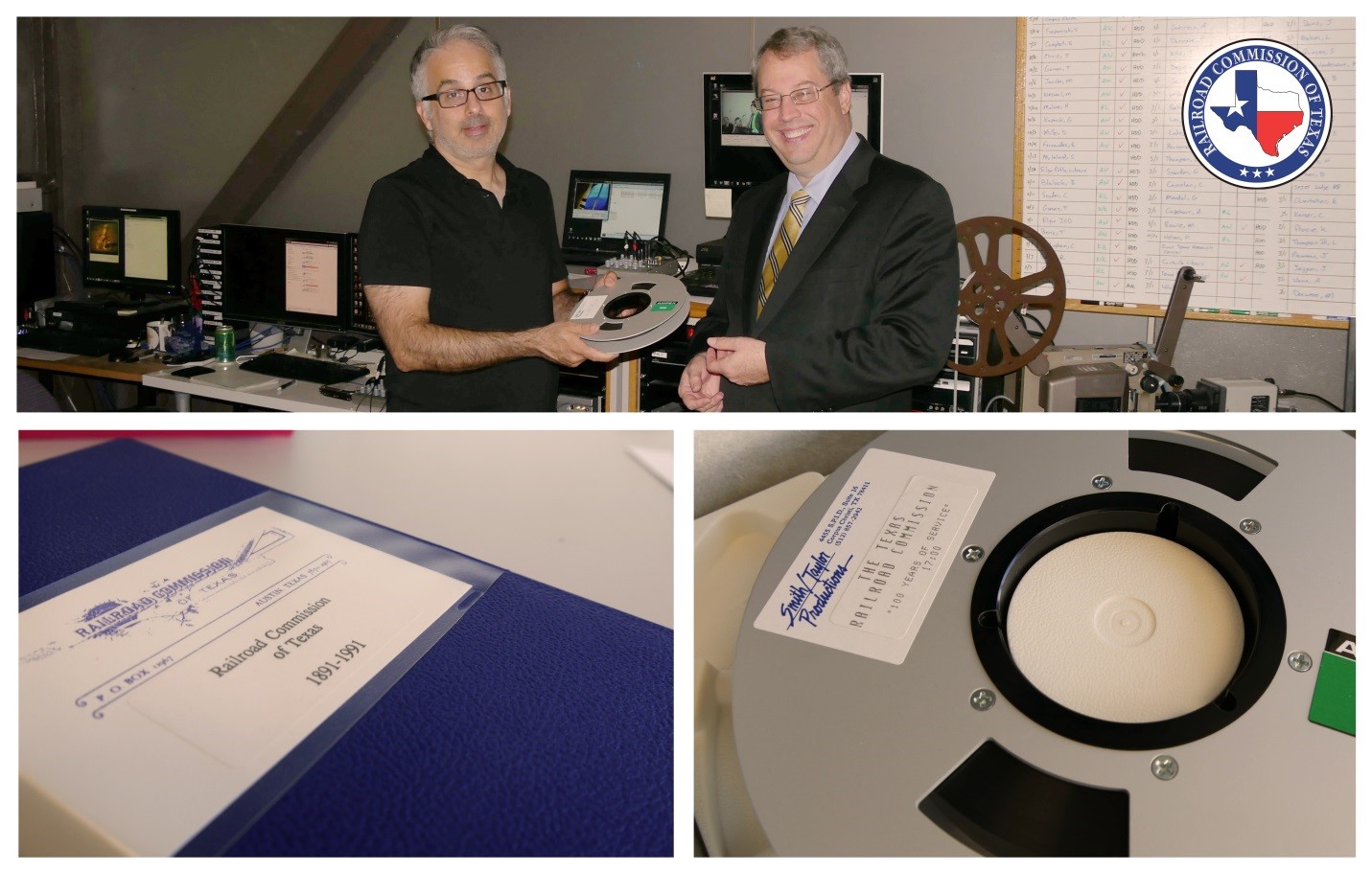 Railroad Commission Chairman David Porter (left) with TAMI Technical Director Afsheen Nomai.
---
Texas Railroad Commission Chairman David Porter was elected statewide by the people of Texas to serve as a member of the Commission in November 2010. A Certified Public Accountant and successful small business owner, Chairman Porter has worked with oil and gas producers for nearly three decades providing strategic financial advice and tax counsel. He is the senior member of the Commission with a proven record of principle-driven, free market conservative leadership.
---
About the Railroad Commission:
Our mission is to serve Texas by our stewardship of natural resources and the environment, our concern for personal and community safety, and our support of enhanced development and economic vitality for the benefit of Texans. The Commission has a long and proud history of service to both Texas and to the nation, including almost 100 years regulating the oil and gas industry. The Commission also has jurisdiction over alternative fuels safety, natural gas utilities, surface mining and intrastate pipelines. Established in 1891, the Railroad Commission of Texas is the oldest regulatory agency in the state. To learn more, please visit http://www.rrc.texas.gov/about-us/.