Commissioner Sitton Delivers Morning Keynote Address at Australian American Chamber of Commerce Energy and Tech Conference
February 16, 2016
HOUSTON – Commissioner Ryan Sitton today delivered the morning keynote address at the Australian American Chamber of Commerce Energy and Technology Conference. The conference has become renowned as the leading United States forum linking American and Australian energy executives and technical experts. The event was held at the Westin Houston.
"Texas energy production is paving the way across the globe for enhanced and innovative ways to responsibly produce energy," Commissioner Sitton told the gathering. "Shared technology and collaborative energy strategies with our allies in the world will enhance access to affordable and reliable energy and I'm excited Texas has such a strong relationship with Australia," concluded Sitton.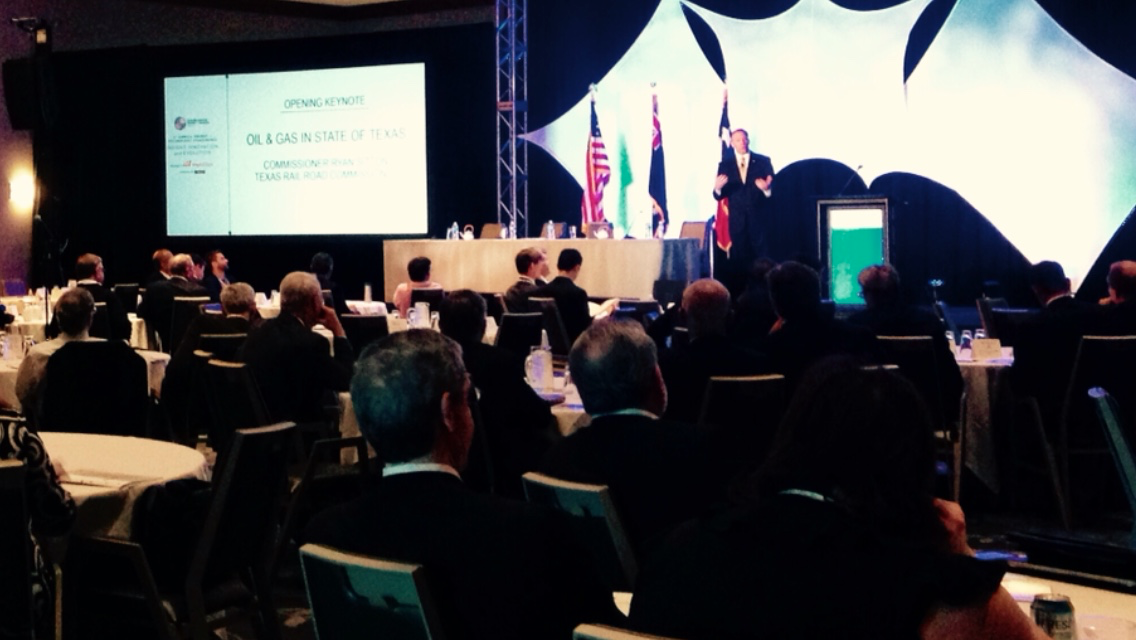 ---
Elected to the Railroad Commission Nov. 4, 2014 to a six-year term, Commissioner Ryan Sitton won the general election with over 58 percent of the vote.Sitton is a native Texan who grew up in the Irving area. He is a graduate of Texas A&M University where he earned a degree in Mechanical Engineering, and met his wife, Jennifer. Following college, Ryan went to work as an engineer in the energy industry. In 2006 Ryan and Jennifer founded PinnacleAIS, an engineering and technology company focused on reliability and integrity programs for the oil, gas, and petrochemical industries.
---
About the Railroad Commission:
Our mission is to serve Texas by our stewardship of natural resources and the environment, our concern for personal and community safety, and our support of enhanced development and economic vitality for the benefit of Texans. The Commission has a long and proud history of service to both Texas and to the nation, including almost 100 years regulating the oil and gas industry. The Commission also has jurisdiction over alternative fuels safety, natural gas utilities, surface mining and intrastate pipelines. Established in 1891, the Railroad Commission of Texas is the oldest regulatory agency in the state. To learn more, please visit http://www.rrc.texas.gov/about-us/.