Commissioner Ryan Sitton Addresses TPPF Liberty Leadership Council
September 26, 2017
Texas Railroad Commissioner Ryan Sitton today spoke with the Texas Public Policy Foundation's young professionals group, the Liberty Leadership Council, about the impact of the their generation on Texas energy opportunities.
"We have the opportunity in Texas to provide the world with clean, affordable and reliable energy, and that is largely due to the innovation of Texas energy producers," Sitton said.
"There has never been a better time for young leaders to enter the energy industry in our state. The next generation of Texas energy leaders will have the opportunity, through innovation, energy infrastructure investment and hard work to solidify America's global energy dominance, which is good for our economic and national security interests. I believe they are up to the challenge," concluded Sitton.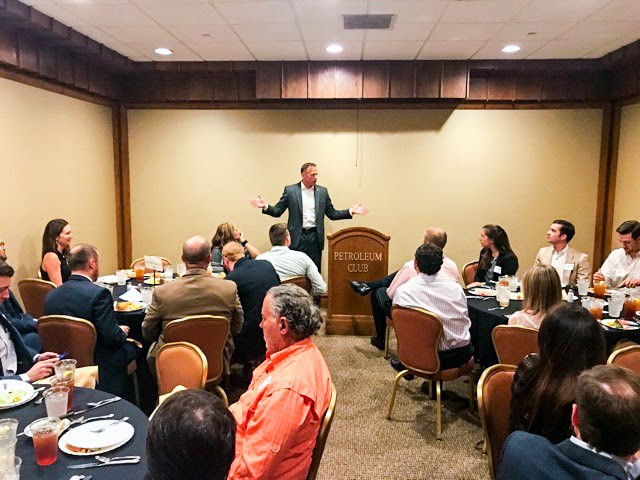 ---
Ryan Sitton was elected to the Railroad Commission in 2014 and is the first engineer to serve on the Commission in 50 years. Ryan is one of the world's leading energy experts and founded PinnacleART, an engineering and technology company focused on reliability and integrity programs for the oil, gas, and petrochemical, mining, pharmaceutical, and wastewater industries. As Railroad Commissioner, Ryan is committed to fostering an environment where energy can be responsibly produced as efficiently and effectively as possible.
---
About the Railroad Commission:
Our mission is to serve Texas by our stewardship of natural resources and the environment, our concern for personal and community safety, and our support of enhanced development and economic vitality for the benefit of Texans. The Commission has a long and proud history of service to both Texas and to the nation, including almost 100 years regulating the oil and gas industry. The Commission also has jurisdiction over alternative fuels safety, natural gas utilities, surface mining and intrastate pipelines. Established in 1891, the Railroad Commission of Texas is the oldest regulatory agency in the state. To learn more, please visit http://www.rrc.texas.gov/about-us/.